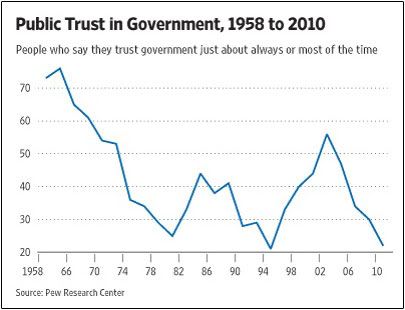 Source Pew Research Center.
Posting the Pew Trust in Government graphic may cause some to question why I did so. I am a second generation civil servant, probably long ago realized that "Corridors of Power" by a well-known British writer CP Snow was quite different from the US Civil Service. Yet I did my best to help implement the vision of appointees I worked for that had vision and I believed understood that ultimately their time in office was short and they were there in the government trying to make America a better place. Many did so. Some did not.
This blog is hopefully directed to increasing trust in government by demonstrating that good ideas and policies sometimes make it into the daylight but often don't. It is not my purpose to fully explain either outcome and I am sure many would disagree with my rationale and conclusions. I have witnessed some amazing events in 34 years of FEDERAL SERVICE including 2 years, 10 months, 4 days, and 7 hours in the military but who was counting. I do feel lucky though because many men better than I have given the last full measure of devotion to the USA and I try and remember that every day. I am also a cancer survivor so feel lucky from that standpoint also.
No the purpose of the blog is so that it can serve as a shortcut for some who wish to understand how we (US) got where we are on Emergency Management and Homeland Security and to note that the world of EM and HS did NOT begin on 9/11/01! If my contribution is limited my hope for understanding is not and hoping that the oldest and richest democracy (Republic really) can show the rest of the world the thoughtfullness, patience with the democratic process, and understanding so that others understand better these essentially civil functions.